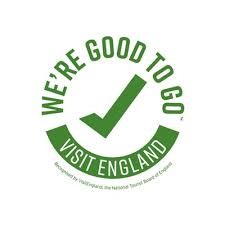 We've been awarded accreditation from Visit England and AA confirming our compliance with government and industry COVID-19 guidelines, which ensure we have the processes in place to maintain cleanliness and aid social/physical distancing.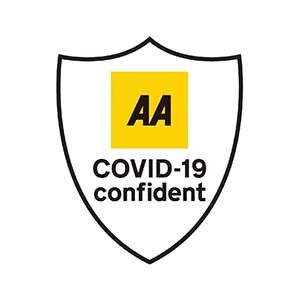 Physical Distancing
Maintaining a physical distance from others is essential in stopping the spread of the virus. We love that our building is old and a little bit different but this does make it more difficult to have set rules in place. We ask you to please use common sense and be responsible for your own physical distancing during your stay when moving around the guest house for the wellbeing of everyone.  

Checking In
Your room will be available for check-in from 3pm.
Unfortunately because of the extra precautions taken during cleaning guest bedrooms we will not be able to offer the usual early check-in facility. However, we will make parking permits available at the entrance so you can arrive as early as you like and park up ready to enjoy the day.
When you arrive to check-in please be aware of other guests and if we are busy wait outside until we can assist you.

Breakfast
We've adapted our service style to adhere to Government guidelines, and have adjusted table layouts to allow for the required distancing policy. We're lucky to have our guest lounge which we will also be using for breakfast service thus ensuring there's plenty of space for all.  
Breakfast will be served at the usual times and Sophie's delicious food has not changed, though unfortunately our buffet style breakfast table is not viable with current guidelines. If you want any cereal, juice, fruit or croissants then please just ask Phill who will of course, kindly oblige!

Cancellations
We have tried to be as flexible as we can throughout these difficult times and we dearly thank our existing guests for helping us move bookings to later in the year.
To add extra confidence in these unsure times we have added a couple of lines to our cancellation terms.
We will offer to move bookings free of charge if you contract coronavirus and/or are required to self-isolate. We hope you will understand that we will need to see written evidence that you have been requested to self-isolate via the Government test and trace program.
Should travel restrictions be put in place such that you cannot visit Whitby then we will offer to move your booking free of charge.
What to Expect During Your Visit
The experience may look a little different in this new normal, but we hope it will feel the same; ultimately, it will still be us caring for you and delivering the same attention to detail and personalised service that you are used to at The Belfry Whitby. We want to reassure you that we're putting measures in place to keep you and us safe so that you can confidently enjoy your stay.

Guest Health
Your and our health is the most important factor in taking decisions on how to safely operate our business. We therefore hope you will understand that if you are displaying symptoms of coronavirus or are required to self-isolate then we ask that you do not travel. Likewise if you develop symptoms when you are here, you inform us immediately and return to your permanent residence.

Cleaning
As you have come to expect from us, we take the upmost care in ensuring the cleanliness of The Belfry Whitby. However, we are now taking extra steps to ensure that all areas are thoroughly clean, sanitised and compliant with the latest guidance.
All of us are trained in these new standards.
Check-in is now from 3pm to allow for more time to clean guest bedrooms.
We have invested heavily in all the right equipment and products to ensure your safe stay. Before your arrival, as well as thoroughly cleaned, your room has been fully sanitised using the latest fogging equipment.
Hand sanitiser is provided on entry and within the guest house.
We have removed unnecessary items from rooms such as cushions and throws in order to aid thorough cleaning.

Room servicing
We are still offering daily room servicing, where we will empty bins, refresh your hospitality tray and clean your bathroom. However, we will not be making beds.
We ask that you try and re-use your towels as we now have significantly more laundry to process. Towel radiators will come on twice daily to ensure towels remain fresh. If you do require a new set of towels please place used ones in the bottom of the shower tray.
If you do not wish us to enter your room during your stay then please place the do not disturb sign on your door handle. If you need any extra items for your room then please let us know.